The Ventsys Heat Exchanger: Improving the air in your home


The Ventsys Heat Exchanger draws fresh air in, warms it and delivers it into your home, while getting rid of old, stale air. Inlet Air to the unit can be either fresh air from outside, or filtered warm air from the attic space.
An optional diverting branch gives you the extra ability to switch between the two as required. Ventsys Heat Exchanger ducted kits are also available for one, two, three and four room home configurations.
Perfect for homes with well sealed windows and doors, as well as older homes where heat recovery is essential.
Key Benefits of Balanced Pressure Ventilation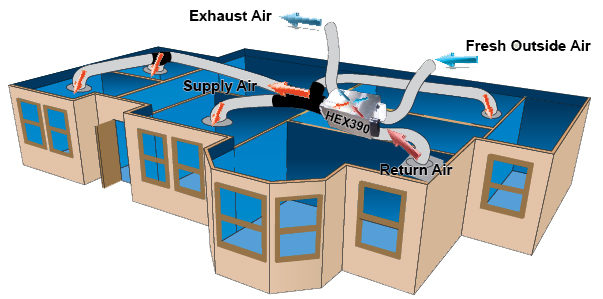 Better Climate Control
Reduced Heating load
Reduced air-conditioning load
Fresh air
Energy Efficiency
Reduces condensation
Very eco-friendly, the Ventsys Heat Exchanger is energy efficient and helps you save on heating and cooling costs.